On 31st October 2014 I birthed my very own drum. It was an amazing experience and I did not expect how emotional I would feel either.
We cleansed our items to make the drum, the hide, wood frame and material for beaters. We were taken through step by step how to make the drum. It was very relaxing concentrating on making something. It was also good to keep your mind from wandering and thinking about every day things or things you need to do, or any worries. Once you came to the ending of tying through the last piece of lace and cutting the long bit off, we all said "Happy Birthday" as our drums were birthed! We went on to make our beaters afterwards, which was also very relaxing as you are concentrating on it.
After we had all made our drums, we were taken on a journey to meet the spirit of them. We laid back with our drum on our hearts and our beaters in our hands. Our teachers played their drums, drumming us on a journey. I met the spirit of my drum, a beautiful stag who said he was hear to help me through my journey and he will always be here with me now. He said he loved me and I truly did feel that love and I felt love for him. I truly love my drum. I did not expect these feelings or how emotional I got meeting the spirit of my drum, but it was amazing.
I would not be without my drum now and I would highly recommend making your own drum. You have a deep connection with it, making it yourself and connecting to the spirit of the animal you have made live on in a drum. The spirit of the animal will live on, making music, helping to heal and bring joy.
Poem to my Drum
Hail to my drum, the heart beat of the earth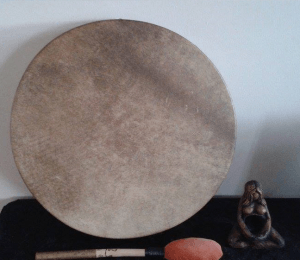 It helps me to heal and it helps me to connect
Connect me to all things, but importantly to myself, Deep within I go to discover who I am
Hail to my drum, the shamans horse
It helps me to journey, travelling deep within myself
I let go of things that no longer serve me
Helping me to heal and to be free and to be happy
Hail to my drum, thank you for connecting
Hail to my drum,  I love you deeply
---
Thank you for reading and I hope you all will find the wonderful connection and healing a drum can give you. I would love to hear from you if you have a drum, whether you made it yourself or it just came into your life. Please comment below!
Brightest Blessings
Charleen xx