Butterfly Maiden
9th Week of Spring, Goddess of the week
This article is part of the Goddesses for Every Season Journey I have decided to take and I am following the book Goddesses for Every Season by Nancy Blair. A year long Journey to meet a different Goddess a week.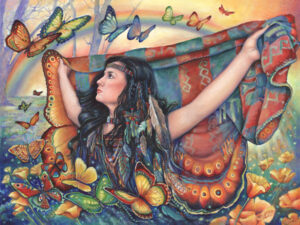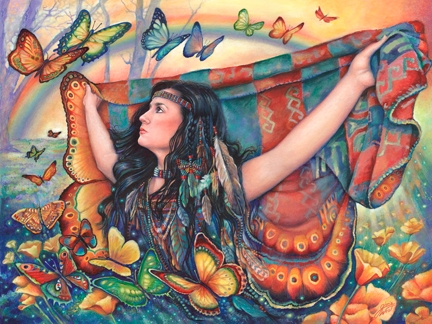 Butterfly Maiden is a Native American (Hopi) Goddess and she is the Goddess of transformation, rebirth, joy, abundance and fertility. She is the Goddess of Nature and governs the Springtime. She looks after the animals, plants, trees, flowers and is found within them all. She is the spirit of our female ancestors and helps to make our dreams come true. She will help you change your life and become more free if you are willing to let go and let her guide you. The faeries help her, looking after the animal and plant kingdoms. They are the spirits of Nature and she is the Queen.
As the caterpillar changes into the butterfly, you can change and transform your life. You can fly and sore like the butterfly, all you need to do is trust and move forward. Butterfly Maiden will help you do this, all you need to do is ask.
Symbols
Butterflies, Faeries, Nature Spirits, Rainbows, the Elements (earth, fire, water, air), Spring flowers, Spring leaves, Wings, Sun.
Colors
All colors, especially bright. She will help balance all your chakras too.
Crystals
Rose quartz, Desert Rose, Fluorite.
Oils/herbs
Sage, Lavender, Rose, Bergamot, Yarrow, Hyssop, Lemon.
Meditation to connect
Sit outside or if you prefer a comfortable room. Put on some meditative music if you are inside, light some incense/sage and a candle. Sit, close your eyes and relax. Take three deep breaths.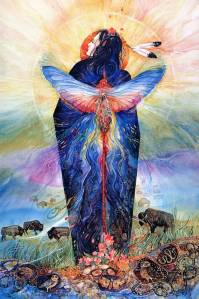 Imagine you are in a beautiful meadow. The sun is shining, the birds singing and you can even hear the buzz of bees. It is a perfect Spring day. You see a path and start to follow it through the meadow, taking in your surroundings. As you continue to walk, you notice a large cluster of flowers growing and are surrounded by butterflies. You decide to go over to them as its just so beautiful. You sit by them, watching. Watching how magical they are and its just so peaceful. Butterflies start to land on you and you are in awe.
Then you notice one butterfly that stands out from the rest. How is it different? This butterfly turns to you as it knows you are watching and then flies towards you. It suddenly gets bigger and turns into a beautiful woman. Standing before you she says 'You wished to connect with me? I am Butterfly Maiden.' You say hello and thank her for connecting with you.
Take this time to talk to Butterfly Maiden. Ask her anything, maybe she has a message for you.
After a while and when you are finished talking and connecting, Butterfly Maiden says 'I am always here. I look after the animals, plants and trees. I am in the breeze, the grass, the rivers. I am Nature herself. When you feel you need to connect, sit in Nature and talk with me. I will help and guide you.' You thank her and she turns back into a butterfly and flies away.
When you are ready, take three deep breaths and come back into the room.
Write down your experience. What was she like? What was her message to you? Was there anything else in the meditation that you noticed that could be a message or a sign?
My journey with Butterfly Maiden
I have heard of Butterfly Maiden once before, although do not know much about her until I researched a bit after my journey to meet her. She came to me as a butterfly and turned into a beautiful dark colored woman, with wings. She was gentle and she really had the energy of Spring and Nature. Unlike the journey to Astarte, this was quite a short one. She had a message of stating I have the power to change my life and not to get stuck. Moving forward, however small the steps are is better than standing still. I have the power to transform my life, like the caterpillar changes into the butterfly, I too can fly! Very powerful message even though such a short journey. She also told me she worked with the Faeries and that she is the Faery Queen. Although I have not come across it myself in some of the research I have done I do not disregard what she has told me. Some may not see her as a Faery Queen but she has come to me as this and it feels right to me as shes everything Nature. I will definitely be doing more connecting with her and ask for her help in transforming my life to what I desire.
I hope you found this information helpful for your connection with Butterfly Maiden and you have found a connection with her. If you would like to have more information on her I have listed at the bottom a list of resources I used to research her.
I would love to hear from you if you have started this Journey with me, connected to Butterfly Maiden and want to share your experiences. Please leave your comment below. If you wish to ask me any questions, please do contact me. You can do this either by the contact page on this website, through Facebook, Instagram or email at info@thebridgingtree.com
You can now sign up and download a free Goddess worksheet to help you on your journey to the Goddesses of the week. It will guide you on ways to connect and have space for you to write your own journey. To receive your copy CLICK HERE!
Love & Light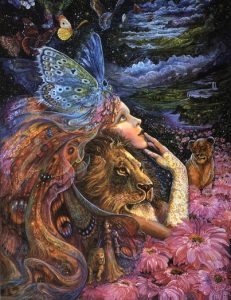 Charleen xx
Picture Credits: Top: Unknown artist, Middle: helen Nelson Reed, Bottom: Josephine Wall
Resources Used
http://www.goddessschool.com/projects/Lavanee/fpl2bw.html
https://journeyingtothegoddess.wordpress.com/2012/03/22/butterfly-maiden/
Other resources
http://www.jstor.org/stable/659798?seq=1#page_scan_tab_contents
http://www.whats-your-sign.com/butterfly-animal-symbolism.html
Please follow and like us: