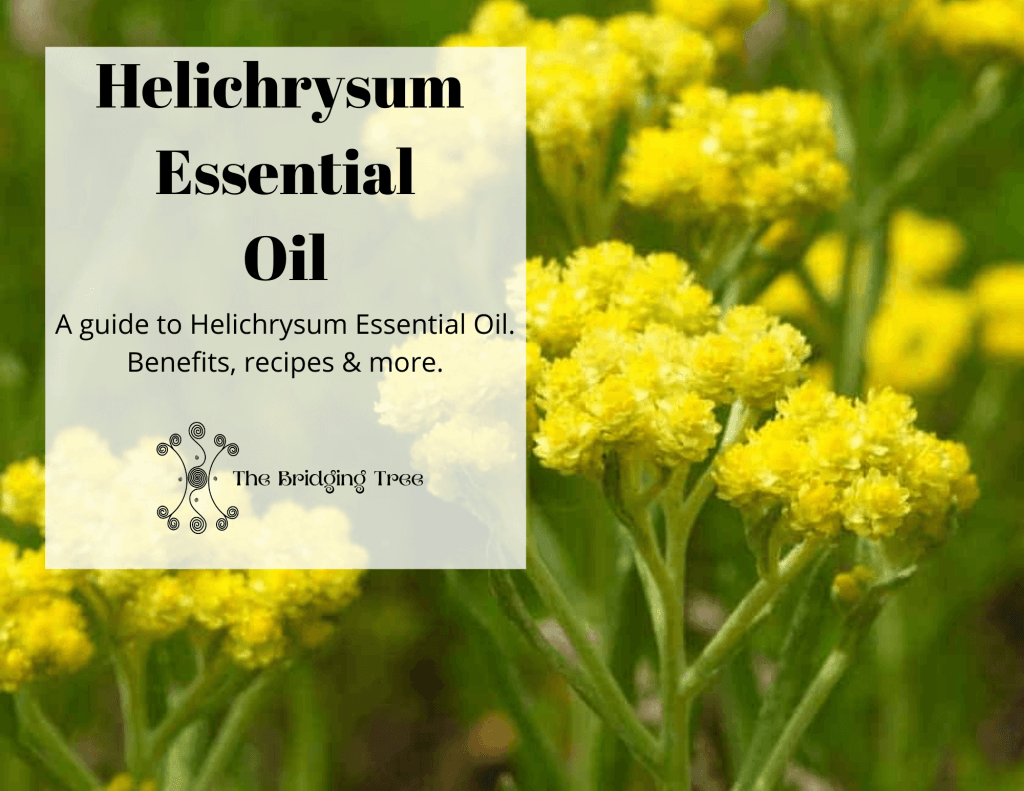 Helichrysum Essential Oil Profile
Latin Name: Helichrysum Italicum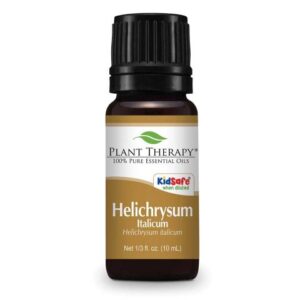 Origins: France, Croatia
Extraction method: Steam Distilled
Plant part: Flowering plant
Scent: Warm, sweet, herbal woodsy
Color: Light yellow
Middle note: This means it can take a few minutes for you to smell the scent on your skin, but it lasts. If mixing with other oils, you will smell this after the top note has evaporated.
Properties: Analgesic, Anti-Allergenic, Anti-Inflammatory, Anti-spasmodic, Antioxidant, Anti-Microbial, Anti-Aging, Astringent, Diuretic, Expectorant, Cholagogue, Cytophylactic, Nervine.
Cautions: None known
---
Helichrysum Essential Oil is warm and woodsy and has many benefits. It is originally found/native in the Mediterranean and the flowers were often offered to the Greek Gods. Used for thousands of years for medicinal use and still is to this day. Now it will be grown in other countries to extract the oil and the benefits and so you will find the Oil origins come from different places such as France and Croatia to name a few.
The oil is extracted by steam distillation from the flowers and leaves. This method uses steam, which is passed through the plant materials to separate the oil from the plant and then the oil is collected from the top of the water (as oil and water do not mix, it is easy to collect), which is produced by the steam.
Helichrysum Essential Oil is used for mostly cosmetic and medicinal purposes, physical and mental/emotional. Soothing and calming, helping you to relieve such conditions as anxiety, anger and deep emotional issues and reduces appearance of conditions such as scars and blemishes.
---
Benefits
Here are some of the things Helichrysum Essential Oil can help with.
Digestive, Urinary and Immune Systems
Helichrysum Essential Oil has been used to help stomach ache, indigestion and is a diuretic, helping the body to secrete gastric juices to break down food and reduce excess water and bloating.
The oil helps with allergies, fights infections and helps to prevent them in the body by supporting the immune system. It also helps with coughs and colds by loosening phlegm and preventing it from building up.
Helichrysum Essential Oil also helps with inflammation in the body, whether it be the stomach, muscles, skin or other parts of the body.
Skin Care and Wounds
Helichrysum Essential Oil is used in cosmetics as it is a very good skin oil. It helps with blemishes, scar tissue and wrinkles (anti-aging) and it also helps with healing wounds, cuts and sores. This study (1) shows that Helichrysum is anti-proliferative and primarily inhibits tissue remodeling-related proteins, which means it helps wound healing.
In skin conditions such as acne, eczema and rashes, Helichrysum Essential Oil helps to clear these up due to being an infection fighter and helper of dry itchy skin, moisturizing well.
Mental and Emotional
Helichrysum Essential Oil helps with conditions such as anxiety, deep emotional issues and anger. Helping to release emotional trauma gently. Soothing and calming the nervous system.
This study (2) shows that Helichrysum Essential Oil combined with some other oils, helps with mental stress/exhaustion and burnout.
Spiritual
Helichrysum Essential Oil is a great oil for shadow work. It helps to calm and sooth any deep trauma you may have that you might not be able to face and helps support and nurture you through this. Helping you to feel safe for self exposure, to look at these traumas and your shadow, in turn helping you to heal.
Connecting you to the spiritual realms and your inner wisdom. Helping you to find your soul again when you are feeling lost and help you to love yourself again. Connecting to Nature and the Goddess (especially her Mother aspect) in its way of nurturing, instilling inner peace.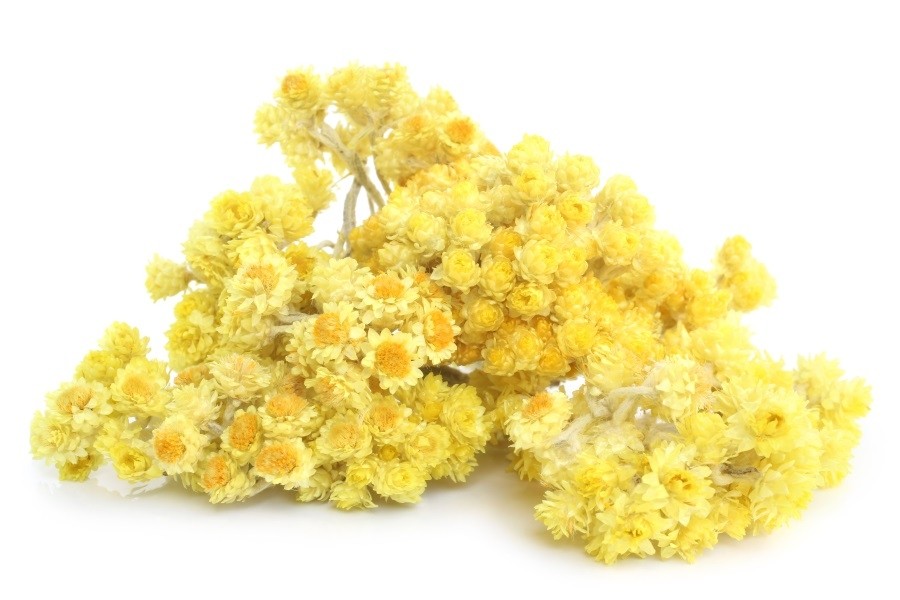 How to use Helichrysum Essential Oil
Oil Burner/Diffuser: Add a couple of drops of the oil in an oil burner or diffuser to fill the room with the aroma. This will help you be calm and relaxed. Helping you feel at peace as you breathe this oil in.
Inhaler: Add a few drops to a personal inhaler. You will be able to breathe in the oil when ever you feel in need of it, in such times like feel anxious or needing to feel calm. This is a handy little tool as you can take it anywhere with you, so always have it ready for use!
Skin Lotion/Oil: You can buy skin lotion bases, which have no fragrance and are all ready to put your own essential oils into. So buy a skin lotion base or a carrier oil such as Grapeseed and you can add a few drops of Helichrysum Essential Oil and use to moisturize your skin or help with some skin conditions as said above. (Recipe below).
---
Recipes for Helichrysum Essential Oil
As well as the ingredients below, you may also need a funnel to pour liquids into the bottles and other utensils for mixing.
Skin Lotion
236ml/8oz jar as its easier to mix, but you can use anything such as a bottle with a pump top. Dark in color preferably to preserve the essential oils
236ml/8oz Unscented lotion base
40 drops Helichrysum Essential Oil
Add the Essential Oil to the lotion and mix well. If using a Jar, pour both ingredients in and mix, if using a pump bottle, mix in a separate container first so it mixes well and then pour into the bottle. This can be used as a beauty product for skin blemishes, scars, anti-aging and dry skin and can also be used whenever needed as a lotion for skin conditions such as eczema and rashes.
For a more thicker cream/butter you could try making this from scratch:
236ml/8oz jar as its easier to mix and get out of the bottle as its a thick cream. Dark in color preferably to preserve the essential oils
147ml/5oz Shea Butter (unrefined)
88ml/3oz Fractionated Coconut Oil
40 drops Helichrysum Essential Oil
Or if you really want to treat yourself, you could use 20 drops Helichrysum Essential Oil and 20 drops Rose Absolute or Geranium Essential Oil instead of just Helichrysum. They work well together and you may like the smell better.
Using a double boiler or a heat proof bowl over a pan of boiling water heat up the Shea Butter gently, just until it softens enough for you to mix the other ingredients. Then add the Coconut oil and Essential oils, mix them together and let them cool a bit before pouring into the jar.
This is a much more rich and luxurious cream and will help moisturize your skin as well as help with the skin conditions above.
Inhaler
You will need to purchase an inhaler for this. You can buy these at Plant Therapy or from places such as Amazon.
Apply 10 to 15 drops of the Helichrysum Essential Oil onto the white wick. Then place the wick into the inhaler and breathe in the scent from the top. When not in use, apply the lid and store in a cool dark place. (There should be instructions with the inhalers when you purchase them).
This is a simple method of using oil for mental/emotional issues. When you need to feel calm or are struggling with anxiety for example, take your inhaler and breathe in the scent. It can be kept in your purse so you can have it anytime you need! This will last about three months and then you can just re-apply the oil.
Another way you could try is to use a cotton ball. Place 2 drops of Helichrysum Essential Oil on a cotton ball and breathe in the scent. You could also put it on your pillow at night to help with keeping you calm and relaxed to get a good nights sleep. This is a one off use, so investing in an inhaler is useful as they will last for three or four months and you can then re-apply the oil.
---
Safety Precaution when using Essential Oils
Please stick to the guidelines on amounts above when using and mixing oils as overuse can cause problems, especially in children. Do not ever apply essential oils neat on the skin or use internally. Only ever mix in a base/carrier oil. Do not use on small children. Test patch the diluted oil (and any other ingredients mentioned above for making your own products) on skin to check for allergic reaction. If in event of an allergic reaction wash the area and seek medical advice.
---
Where to buy
I buy my oils from Plant Therapy . I love them because they are high quality, therapeutic grade and affordable. You can also purchase Shea Butter and Unscented lotion from them too as mentioned in recipes above. If you wish to purchase elsewhere, try to pick therapeutic grade as these are pure and good quality and you will get the full benefits of an essential oil.
To purchase or for more information on each item, click on the images.
Final Thoughts
Helichrysum Essential Oil is a great oil for skin care, emotional and spiritual issues.
Helping to ease and heal acne, eczema and rashes as well as heal wounds quickly. It's good for over all skin care, helping with wrinkles, scarring, blemishes and moisturizes the skin.
Helichrysum Essential Oil eases your emotions and helps anxiety and depression. Helping you in a gentle way to release emotional trauma.
Great for shadow work and connecting to your inner wisdom, Helichrysum Essential Oil will help you find your soul again and nature you. It is a wonderful oil to help connect to Nature and the Great Goddess.
References
Study 1 https://www.ncbi.nlm.nih.gov/pubmed/29450150/
Study 2 https://www.ncbi.nlm.nih.gov/pubmed/23140115
Disclaimer: The contents of this article is for information only and using any of the methods suggested is at your own risk. Always consult a doctor with any medical condition you may have, especially if you are trying new complimentary medicines.