Pink Grapefruit Essential Oil Profile
Latin Name: Citrus X Paradisi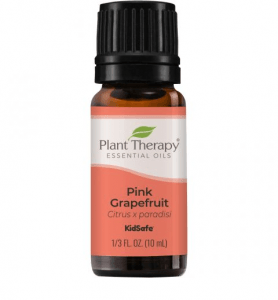 Origins: Israel, USA, South Africa, Brazil, West Indies
Extraction method: Cold pressed
Plant part: Peel from fruit
Scent: Mild sweet and juicy citrus scent
Color: Yellow or greenish
Top note: If using for a room spray/perfume it is best to use with other oils as this oil will evaporate quickly and therefore the smell will not last.
Properties: Antidepressent, Antiseptic, Antimicrobial, Depurative, Digestive stimulant, Diuretic, lymphatic stimulant.
Cautions: Can cause photosensitivity. Recommended dilution no higher than 4%.
---
Pink grapefruit essential oil is a wonderful citrus smelling oil that uplifts and boosts your energy. It has a variety of benefits and is a popular oil, especially if you love citrus smells!
The grapefruit is a hybrid of the pomelo (Citrus maxima) and sweet orange (Citrus sinensis). It was named the "forbidden fruit" of Barbados by Griffith Hughes in 1750. This was where it was first documented and today is claimed to be one of the seven wonders of Barbados. In 1814 it became known as the grapefruit and was named by John Lunan. He called it this as the fruit grew in grape like clusters.
The oil is extracted by the process cold pressing or cold press extraction. This method consists of puncturing the skin (peel) and pressing the oil out.  The essential oil is then separated from the juice that has been squeezed out. You can get distilled citrus oils, however some of the goodness is lost. It is therefore better to try and find a cold pressed pink grapefruit essential oil so you benefit from the therapeutic properties.
Pink grapefruit essential oil is very uplifting, refreshing, clean, stimulating but calming, and gives a sense of happiness. It can help with physical, mental, emotional and spiritual issues and has disinfectant qualities for cleaning and household use.
---
Benefits of Pink Grapefruit Essential Oil
Pink grapefruit essential oil has a range of benefits. Below are some of the ways this oil can help you.
Digestive and Immune Systems
Pink grapefruit essential oil may help you lose weight as it suppresses appetite and boosts metabolism. It can lower cravings and hunger, helping to lose weight in a healthy way. It helps the digestive system by stimulating and bringing more blood to the stomach and other digestive organs such as the bladder, intestines, liver and kidneys, helping the detoxification process. It helps to relieve fluid retention and fights microbes within the intestines and other digestive organs.
The oil can boost the immune system as it is rich in antioxidants, particularly vitamin C. This study (1) shows that grapefruit has a valuable source of bioactive flavonoids, which help boost the immune system, helping fight off free radicals. It also is a antimicrobial, which helps to fight bacteria and diseases.
It helps the lymphatic system by boosting activity in the lymph gland, reduces inflammation and eases the lymphatic flow. This helps the functions of the lymphatic system get rid of toxins and fight against cellulite, blood urea and fluid retention.
Skin/Hair Care
Pink grapefruit essential oil is great for hair and skin. It helps with skin conditions such as acne to rid excess oil and calm the skin as it has an affect on the sebaceous glands and reduces their production. It calms the skin by its anti inflammatory properties and helps fight bacteria as its antimicrobial.
The oil is great for hair conditions such as dandruff and greasy hair, helping reduce inflammation and irritation, which can be caused by fungus and bacteria. Just like with oily skin, it helps with oily hair, getting rid of excess oil and helping the sebaceous glands reduce their production. Pink grapefruit essential oil can also help improve hair texture and keep it shiny and smooth.
Pink grapefruit essential oil is also a good antiseptic. This study (2) shows that the oil has potent antimicrobial activity in the cold expressed essential oil and therefore will fight bacteria, fungus and microorganisms.
Mental and Emotional
Pink grapefruit essential oil uplifts and calms you. Boosts your energy and gets you ready for the day. It helps with depression and stress and is an all round great oil for a pick me up when you need it. It promotes joy and happiness and helps clear your mind to help you make decisions and have clarity. If you need to focus on something, this is a great oil to use.
Spiritual

Pink Grapefruit essential oil works with the solar plexus chakra. Helping to unblock and release emotional blocks, which in turn helps depression, anxiety and stress. It will help you release energy blocks in this area such as negativity and any issues you may need to let go of. Pink grapefruit essential oil will also help with self acceptance and self love with its uplifting and calming nature.
Household
Pink grapefruit essential oil is antiseptic and antimicrobial and cuts through grease making it an excellent natural house cleaner. You can use it to clean your kitchen, bathroom or bacteria after washing and preparing food instead of using your store bought cleaner. You can also use it to make a refreshing air freshener and insect repellent.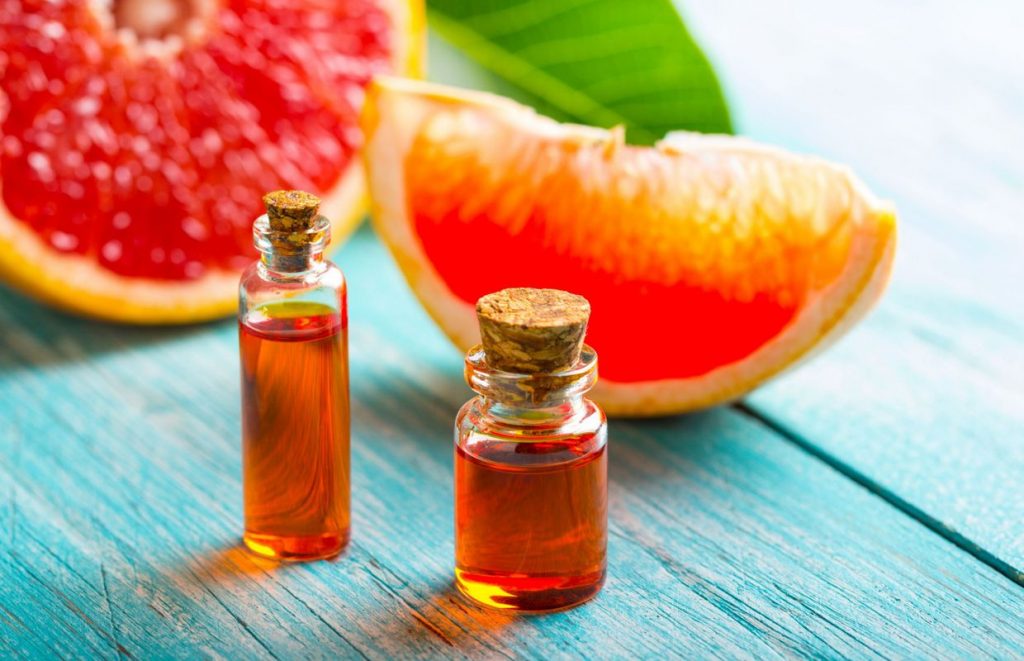 How to use Pink Grapefruit Essential oil
Oil Burner/Diffuser: Add a couple of drops of the oil in an oil burner or diffuser to fill the room with the aroma. This will help clear  your mind as well as clear the air. Helping you to focus and have a sense of joy and fulfillment as well as clean and protect against germs.
Massage: Add a couple of drops to a carrier oil such as grapeseed or coconut oil. This dilutes the oil and you can then apply to the skin. Massaging will help stimulate the skin and help relax muscles. It will help the skin to absorb the oil helping with physical and mental issues as above. (Please note as pink grapefruit essential oil can cause photo sensitivity, it is advised not to put on your skin before going out in the sun).
Anointing Oil: Add a couple of drops to a carrier oil such as grapeseed or coconut oil. This dilutes the oil and you can then apply to the skin. Helping to clear your solar plexus and prepare you for spiritual practices. (Please note as pink grapefruit essential oil can cause photo sensitivity, it is advised not to put on your skin before going out in the sun).
Room spray: You will need a spray bottle (preferably a dark glass one).  Add a couple of drops in some purified water or a combo of water and Witch Hazel, shake (each time you use it) and spray around the room and you could also spray on linen to freshen them up. You will also breathe this in and so it will help with mental issues and some physical ones too as above. (Note, if you are just mixing with water, you either need to use a preservative or use it up quickly, storing in the fridge as water will breed bacteria.)
Cleaner: Mixing some drops of essential oil into some purified water in a spray bottle and spray. You can also add some castile soap too if you wish. (Note, if you are just mixing with water, you either need to use a preservative or use it up quickly, storing in the fridge as water will breed bacteria.)
---
Pink Grapefruit Essential Oil Recipes
As well as the ingredients below, you may also need a funnel to pour liquids into the bottles.
Body Scrub
Glass jar (preferably dark colored)
1/2 cup of Pink Himalayan salt
2 table spoons of Fractionated coconut oil
10 drops Pink grapefruit essential oil
Mix the pink grapefruit essential oil into the fractionated coconut oil. Then pour this into the salt and mix thoroughly. Your salt scrub is ready to use! Store in a glass jar.
Night time facial cleanser and toner
Glass pump bottle
1 cup Castile soap
1/4 cup Jojoba oil
1/4 Aloe vera gel
30 drops Pink grapefruit essential oil
20 drop Neroli essential oil
Mix all the ingredients together and pour into the pump bottle. You now have a cleanser to help with cleaning and ridding dirt and dead skins cells from your skin. Help any oily skin you may have as well as helping scarring, wrinkles and blemishes. It will also help minimize the look of pores and support new cell growth. This is due to the combination of both pink grapefruit essential oil and neroli essential oil.
Please note with the above two recipes, these should be used in the evening and not when you will be exposed to the sun due to pink grapefruit essential oil causing phototoxicity.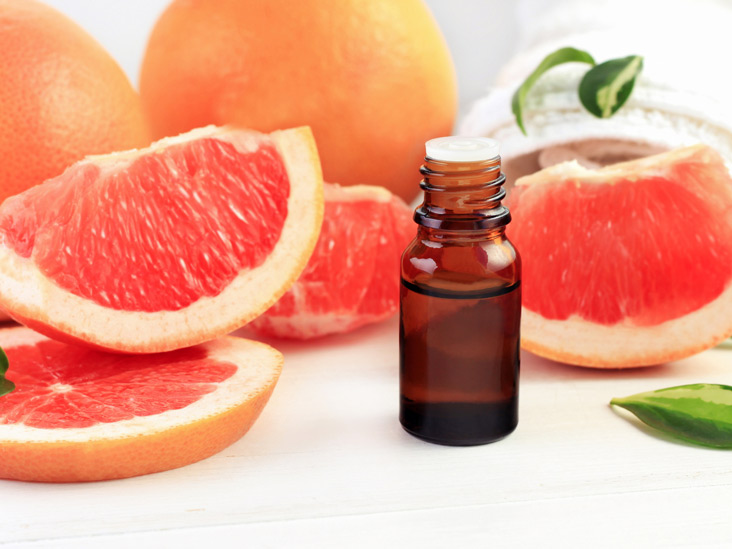 Diffuser/inhaler blend
Diffuser or inhaler
5 drops Pink Grapefruit essential oil
5 drops Bergamot essential oil
3 drops Neroli essential oil
If you have a diffuser then add the drops of essential oils to it and turn it on for half an hour and enjoy the beautiful uplifting citrus smelling scent. It will help uplift, boost your energy and promote happiness. To use an inhaler, add the drops of essential oil to it and breathe in the scent through the nose. Use when you need a boost of energy, upliftment or a pick me up.
All Purpose Cleaner
350ml/12oz Spray bottle
Purified water
2 tablespoons of Castile Soap
1/2 tsp Optiphen Plus (preservative)
10 to 20 drops of Pink grapefruit essential oil
Pour water into bottle, add the Optiphen Plus, castile soap and essential oil and shake.
You now have an all purpose cleaner you can use to clean your bathroom/kitchen. If you over make, keep the solution in a dark, cool place. You can also make this cleaner with hot water. Just make in a bowl and use the hot water solution to clean down worktops and floors, (you will not need to add the preservative if just making a one time solution.) It is recommended to wear gloves when cleaning, especially if you are just using hot water and essential oil.
---
Safety Precaution when using Essential Oils
Please stick to the guidelines on amounts above when using and mixing oils as overuse can cause problems, especially in children. Do not ever apply essential oils neat on the skin or use internally. Only ever mix in a base/carrier oil. Do not use on small children. Test patch the diluted oil on skin to check for allergic reaction. If in event of an allergic reaction wash the area and seek medical advice.
When using as a cleaning product, make sure to test patch an area as may ruin surface.
Please also note as Pink grapefruit essential oil especially can cause photosensitivity, it is advised not to put on your skin before going out in the sun. If you are going out, cover up the areas where you have applied the oil.
---
My Experience
I love pink grapefruit essential oil. It is one of my go to oils to help uplift me and to boost my energy. I also use it when I or others have a cold/ill in the household as its antiseptic and antimicrobial especially if I have run out of my other favorite oil Lemon.
I put some in a diffuser so it fills the room, helping me to be uplifted and ready for the day. I also just love the smell! I will also put it in a diffuser, when someone in my household has a cold or is ill. It helps kill the germs in the air and helps prevent me or others catching the cold.
I will also make a hot honey and lemon drink to ward off the illness/cold. Both the diffuser and the drink may not always work at preventing me catch it completely as it really does depend on how fast you get to it developing, but it does kill it quickly so I do not suffer as long.
Overall pink grapefruit essential oil is a wonder oil to use and one of my must haves. It smells great, you can mix it with other oils to make blends or just use it on its own and it helps prevents colds/illness, uplifts you into a better mood, calms your mind and promotes happiness.
---
Where to buy
I buy my oils from Plant Therapy. I love them because they are high quality, therapeutic grade and affordable. I have put a couple of links below, just click on the pictures to be taken to the page. If you wish to purchase elsewhere, try to pick therapeutic grade as these are pure and good quality and you will get the full benefits of an essential oil.
To purchase or for more information on each item, click on the images.
Final Thoughts
Pink grapefruit essential oil is such a wonderful oil to have. It has a great citrusy smell and is so uplifting. It helps combat infections and boosts the immune system. Helps balance and calm hair and skin and help boost your energy for the day, while lifting your spirits.
Another great things about pink grapefruit essential oil is that its great for cleaning the house and getting rid of grease.
One of the cheaper oils you can buy and is definitely one for your collection, especially if you are starting out.
References
Study 1 https://www.ncbi.nlm.nih.gov/pmc/articles/PMC4745316/
Study 2 https://www.ncbi.nlm.nih.gov/pmc/articles/PMC4670656/
Disclaimer: The contents of this article is for information only and using any of the methods suggested is at your own risk. Always consult a doctor with any medical condition you may have, especially if you are trying new complimentary medicines.