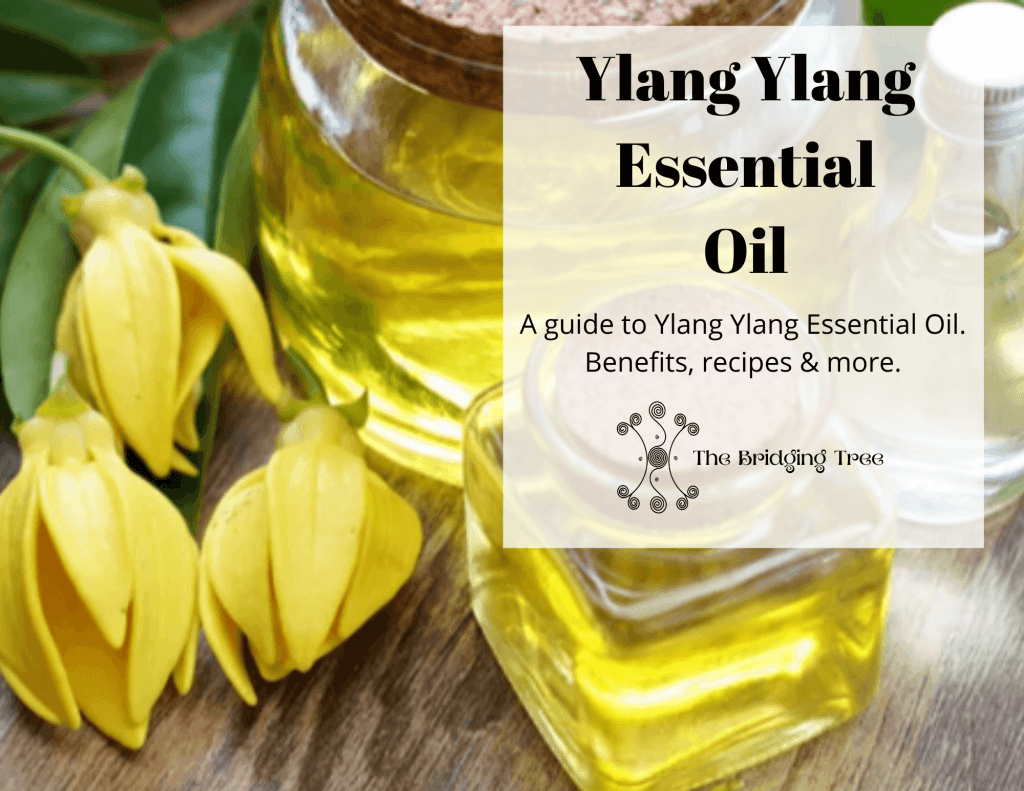 Ylang Ylang Essential Oil Profile
Latin Name: Cananga odorata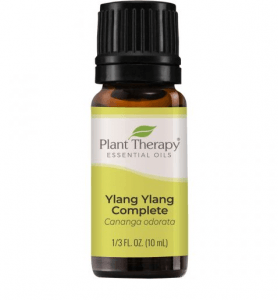 Origins: Madagascar
Extraction method: Steam Distilled
Plant part: Flowers
Scent: Warm, sweet floral
Color: Pale yellow
Middle to base note:  This means it can take a few minutes for you to smell the scent on your skin, but it lasts. If mixing with other oils, you will smell this after the top note has evaporated.
Properties: Antidepressant, Antiseborrheic, Antiseptic, Aphrodisiac, Hypotensive, Nervine, Sedative
Cautions: Possible skin sensitization. Maximum Dilution 0.8%. Could cause nausea and headaches if you use too much.
---
Ylang Ylang essential oil is a warm, sweet floral oil that helps promote feelings of happiness, calms the mind and uplifts you. It is also an aphrodisiac and will help to put you in the mood for love.
Ylang Ylang means 'Flower of flowers' in the language of the Malay people and the tree is native to places around the Indian Ocean such as India, the Philippines, Malaysia, Indonesia, parts of Australia and Madagascar. It is used by healers in the Philippines to help cuts, bruises, and bites from insects and snakes. In the Molucca Islands it is used as a popular hair pomade called Macassar Oil and in the early 20th Century a french chemist discovered its healing properties and started to use it for infections of the in intestines, typhus and malaria. It then grew popular around the world for its calming and relaxing benefits.
---
Benefits of Ylang Ylang Essential Oil
Below are a few benefits of using ylang ylang essential oil.
Circulation
Ylang Ylang essential oil is great for circulation. It helps to calm you and has hypotensive properties helping to lower blood pressure. It helps with tachycardia, palpitations and hyperventilation. This study (1) shows that essential oils, one of which is Ylang Ylang helps to reduce blood pressure as well as helping stress and anxiety.
Skin Care and Wounds
Ylang Ylang essential oil is great for all types of skin and hair as it balances the sebaceous glands, helping to prevent excessive dryness and oiliness. It reduces inflammation and redness and is soothing. Helping with conditions such as acne and hair loss, enhancing circulation, encouraging new skin and hair growth, and is hydrating.
The oil is great for cuts, bruises and bites as it helps to heal and produce new skin cells, as well as being antimicrobial and antiseptic. This study (2) shows that ylang ylang essential oil has a lot of properties and benefits which include antimicrobial, insecticidal and anti-inflammatory.
Reproductive system
Great for PMS, ylang ylang essential oil will especially help with rapid mood swings. Helping to calm the mind and promote happiness and well being and stopping frustration and triggers setting you off.
Mental and Emotional
Ylang Ylang essential oil is great for the mind. It helps with depression, anxiety, stress, lack of self confidence and self esteem, frustration and nervousness. This study (3) shows that essential oils, one of which is Ylang Ylang helps with anxiety and stress.
Spiritual
Ylang Ylang helps with the inner child. It promotes inner joy, trust and opening of the heart to unconditional love. It will help unblock emotional trauma with ease and grace and balances the whole mind, body and spirit.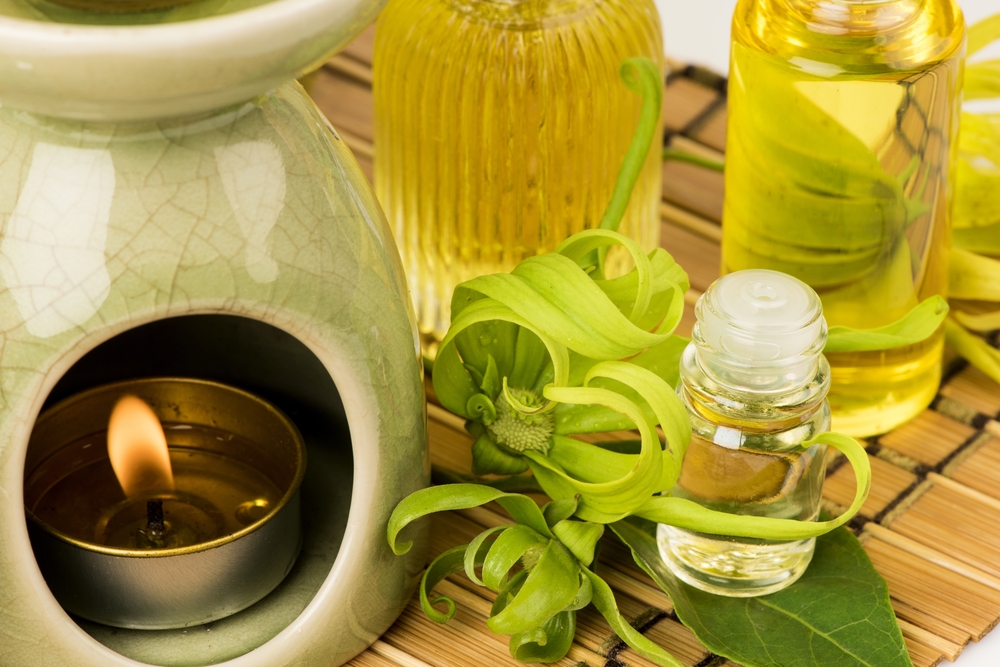 How to use Ylang Ylang Essential Oil
Oil Burner/Diffuser: Add a couple of drops of the oil in an oil burner or diffuser to fill the room with the aroma. As you breathe in the scent, you will be come relaxed and calm. Ready to face anything.
Inhaler: Add a few drops to a personal inhaler. You will be able to breathe in the oil when ever you feel in need of it, in such times like feel anxious or needing to feel calm. You can take inhalers with you as they are small and easily carried in a bag or pocket.
Skin Lotion/Body Oil: Using a unscented skin lotion or a base oil such as Sweet Almond Oil or Fractionated Coconut Oil you can add a few drops of Ylang Ylang essential oil to it. You can then use this to moisturize your skin or apply to cuts or bites.
Massage: Add a couple of drops to a carrier oil such as Sweet Almond Oil or Fractionated Coconut Oil.  This dilutes the oil and you can then apply to the skin. This will help with physical and mental issues mentioned above, Massage relaxes the muscles and helps the oils absorb into the body.
---
Ylang Ylang Essential Oil Recipes
As well as the ingredients below, you may also need a funnel to pour liquids into the bottles and other utensils for mixing.
Sensual Massage Oil
10ml bottle, dark in color to preserve the essential oils.
10ml Carrier Oil – You can use Grapeseed Oil or Fractionated Coconut Oil (which ever you prefer).
1 drop Ylang Ylang Essential Oil
2 drops Sandalwood Essential Oil
2 drops Bergamot Essential Oil
Add the essential oils to the bottle, then add the carrier oil and shake well. You now have a massage blend that you can use for a romantic night in.
Diffusser & Inhaler Blend
1 drop Ylang Ylang Essential Oil
2 drops Frankincense Essential Oil
Apply the oils to the white wick that comes with the inhaler. Place the wick back into the inhaler and you can then breathe in the scent from the top. When not in use, apply the lid and store in a cool dark place. This will last about three months and then you can just re-apply the oil.  You can also add the drops of oil to a diffuser and have the scent fill the room for a relaxing and calming atmosphere.
---
Safety Precaution when using Essential Oils
Please stick to the guidelines on amounts above when using and mixing oils as overuse can cause problems, especially in children. Do not ever apply essential oils neat on the skin or use internally. Only ever mix in a base/carrier oil. Do not use on small children. Test patch the diluted oil (and any other ingredients mentioned above for making your own products) on skin to check for allergic reaction. If in event of an allergic reaction wash the area and seek medical advice.
---
Where to buy
I buy my oils from Plant Therapy. I love them because they are high quality, therapeutic grade and affordable. I have put a couple of links below, just click on the pictures to be taken to the page. You can also purchase the carrier oils from them too as mentioned in recipes above. If you wish to purchase elsewhere, try to pick therapeutic grade as these are pure and good quality and you will get the full benefits of an essential oil.
To purchase or for more information on each item, click on the images.
Final Thoughts
Ylang Ylang essential oil is a beautiful flowery smelling oil. It has a strong scent and a little goes a very long way. It is a great oil for calming you in every way and helps with high blood pressure, stress and anxiety.
Helping you feel happy and calm, it can help with conditions such as depression, rapid mood swings and anger.
Ylang Ylang essential oil will also promote inner joy and balance your mind, body and spirit.
References
Study 1 http://jkan.or.kr/DOIx.php?id=10.4040/jkan.2006.36.7.1123
Study 2 https://www.ncbi.nlm.nih.gov/pmc/articles/PMC4534619/
Study 3 http://jkan.or.kr/DOIx.php?id=10.4040/jkan.2006.36.7.1123
Disclaimer: The contents of this article is for information only and using any of the methods suggested is at your own risk. Always consult a doctor with any medical condition you may have, especially if you are trying new complimentary medicines.