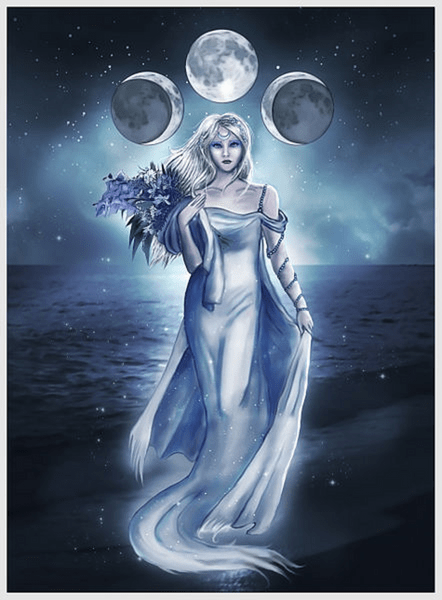 Selene/Selena, one of the Titan Goddesses, daughter of Theia and Hyperion and sister to Eos and Helios. Known as Luna by the Romans. She is essentially a Moon Goddess and gets associated with Artemis. However she is the only Goddess that is considered the Moon itself. She rides a chariot across the sky pulled by white horses, but has been known also to be pulled by horned cows/oxen.
Selene, as the Moon Goddess represents everything moon related. She is the Goddess of the Lunar cycle, blood cycle/Woman mysteries, the flow and ebb of the waters and life blood. Helping to manifest your desires and to connect to your feminine wisdom.
Selene Correspondences
Colors
Silver, White, Golden
Symbols
Moon, Horned Cows, Horses, Tides, Water, Silver Chariot, Crescent Moon Crown
Crystals
Moonstone, Selenite, Quartz
Oils/Herbs
Myrtle, Willow, White Poppy, Rose, Wall Flower, Jasmine, Lotus, Sage
Meditation to connect with Selene
Light a candle, put a oil diffuser or incense and some relaxing music, sit and close your eyes. Take three deep breaths and relax. Hold your intention in connecting to Selene, the Moon Goddess. You could say this in your head three times, 'My intention is to connect with Selene.'
Imagine you are in a forest and its night time. Although its dark, the full moon is bright and lights up a path. You start to walk this path between the trees, making your way gradually, noticing the sound of owls and rustles in the bushes. The path takes you to a circular clearing surrounded by trees and the full moon is directly above you shining down.
You feel this is where Selene will be, so you decide to stand under the full moon, close your eyes and soak up its beautiful cleansing energy. As you are doing this, you hear a voice say 'Welcome Child, I have been expecting you.' You open your eyes and see a beautiful woman is standing in front of you. It is Selene. You say hello and thank her for connecting. She smiles and embraces you. So full of love and light, she starts to talk to you.
Take this time to listen to what she has to say and to ask any questions.
Once you have finished communicating, you thank her. She says ' You are welcome child. I am always here for you to connect. Remember I am the Moon, anytime you feel you need me, look to the Moon and know I am here with you.' She embraces you once more and then floats up towards the Moon and disappears into the light.
Feeling peaceful and when you are ready, take three deep breaths and come back to the room.
Write down your experience. What did she say to you? Did she have a message? Were all your questions answered? Did anything else happen?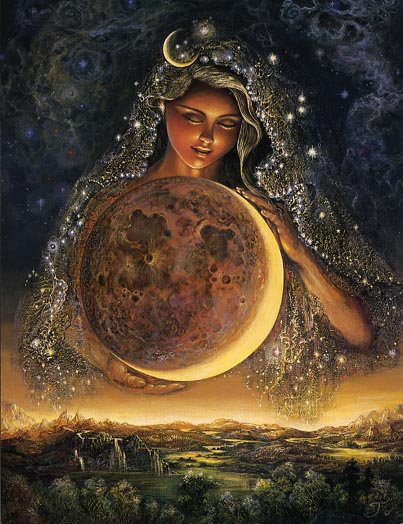 How to connect with Selene
Here are a few ways you can connect with the Goddess Selene.
Meditation
Use the meditation above or find one you are drawn to. You can also simply sit, close your eyes, relax and ask Selene to connect with you. Feel and sense her with you and see if she has a message.
Connect with the Moon
Go outside at night and connect with the Moon, especially a Full Moon. Bathe in her beautiful cleansing energy and talk to Selene.
Offering
Give an offering to the Moon in honor of Selene.
Craft
Craft something in honor of Selene, such as a figurine, a painting etc.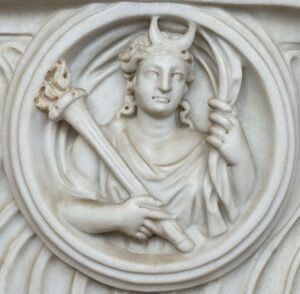 How Selene will help you
Selene will cleanse and clear your energy, helping you to let go of anything that no longer serves you and any negativity you may be holding on to. She will help you manifest your desires and dreams. She will also help you with connecting to your divine feminine, your cycle and your inner wisdom. Call on her when you need to clear your energy. To help with anything you need to manifest. Call on her when you need guidance.
---
Continued Reading and Resources
Goddesses for Every Season by Nancy Blair
https://www.ancient-origins.net/myths-legends-europe/celestial-goddess-selene-star-night-003046
https://study.com/academy/lesson/selene-the-greek-moon-goddess-facts-lesson-quiz.html
https://greekgodsandgoddesses.net/goddesses/selene/
---
FREE Goddess Worksheet
This Goddess worksheet will help you on your journey to connect to each Goddess. It will guide you on ways to connect and have space for you to write your own journey.