I am the Night, the Sky, the Stars, the Creator.
I am the Watcher. Watching and protecting over all.
Call to me, I will guide you as a Mother guides her children.
I will help you to find what you seek within and without.
Listen and observe your surroundings.
Listen to the Wind, the Trees, the Stars, the Animals.
For they all have messages for you.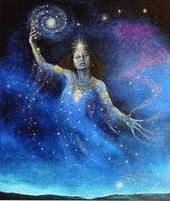 ---
---
FREE Goddess Worksheet
This Goddess worksheet will help you on your journey to connect to each Goddess. It will guide you on ways to connect and have space for you to write your own journey.